Table of Contents
Start - Today Special - Menu - The Cafe - Our Team - Our Equipment - Miscellaneous
The Cafe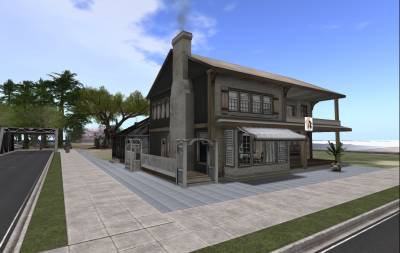 To allow visitors to get a lay of the land, we here proudly show the Cafe itself.
It is located next to the ocean and the channel separating the public trade hub from the private housing area.
Introductionary Notes
There are plans for the ground floor and the upper level. Most elements in the plans are labelled. Doors connect rooms otherwise separated by walls. Direct touching areas means there is ( more or less ) direct access.
Outdoors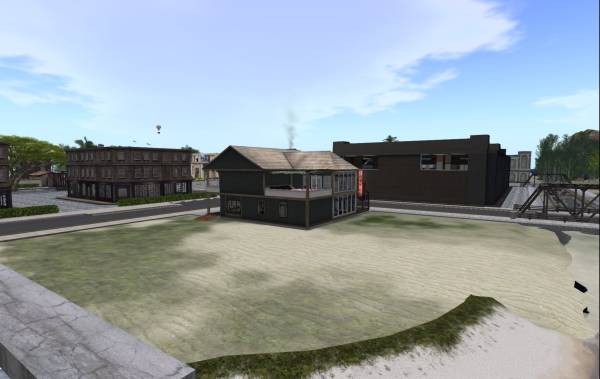 Behind the Cafe is a large well kept area. It can be used for parties and festivals, but also for marriages, ownership-contract ceremonies, BBQs, large classes or yard sales and flea markets. Talk to the staff!
Ground Floor
The ground floor is accessible through three doors from the outside:
| | | |
| --- | --- | --- |
| Through the main door of the walk-in area, where pedestrian customers can come in and buy some snack. | Through the door to the Quality Cafe Area, where guests that reserved seating or groups with larger orders can sit down. | Through the door to the Non-Food-Sales Area, which connects in the end to the Tattoo & Piercing Studio. |
Floorplan Groundfloor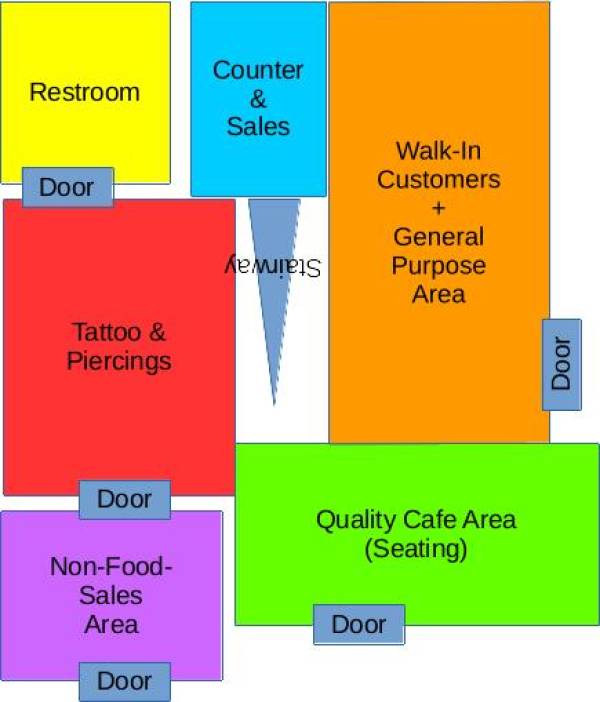 Restroom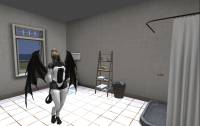 The restroom is reachable from the Tattoo & Piercing Studio. It is equally for customers and employees. The latter tend not to lock the door and entering in such a case is at ones own risk. Knocking is strongly advised! The room is equipped, beside the toilet, for a quick reapplication of rouge or the removal of bloodstains, same as for taking a quick shower after a long workday.
Counter & Sales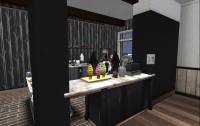 The counter serves both the studio and the walk in customers directly, The seating area is served by waiters and waitresses. The counter area has a small kitchenette suitable for preparing meals, but is mostly focused on serving milkshakes, coffee, icecream and soda. Milkshakes are made fresh from the source on-demand.
Walk-In Customers & GP Area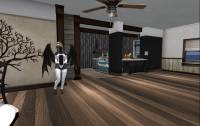 The general purpose area is mostly the space where walk in customers can wait outside the hot sun and order their ice cream or coffee - or both. On occasion it can also be used as tourist information, class room or flea market.
Tattoo & Piercing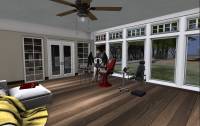 The Tattoo- & Piercing studio is for those enjoying stylish body modifications. With predatory and sadistic staff, you don't have to worry that we might not honestly consider doing something you ask for. Rather, we are more than eager go that extra mile.
Quality Cafe Area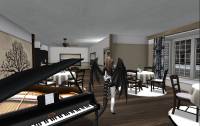 In the quality cafe area, guests can reserve a seating or an entire table. Also guests wanting to delight in one of the cafes dishes can be seated here. At times, the cafe might host music events at this point, too.
Non-Food-Sales-Area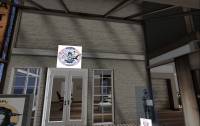 The Non-Food-Sales area is where Shork! Avatars and pixxxiefox' Biodoll V1 avatars can be obtained. Also left-over biodolls might be grabbed here occasionally.
Upper Floor
Floorplan Upper Level